Physicians and scientists at Uppsala Centre of Excellence
Eva Tiensuu Janson M.D., Ph.D
Professor of Medicine
Dr. Eva Tiensuu Janson serves as Professor of Medicine at the Department of Medical Sciences, and since 2014, as Dean of Faculty of Medicine at Uppsala University. She is chair of the Nordic Neuroendocrine Tumor Group and member of the Executive Committee of the European Neuroendocrine Tumor Society. Her translational research has rendered more than 100 publications in peer-reviewed journals, and focuses on the genetics and tumor biology of neuroendocrine tumors. Recently, she has identified new mutations causing the inherited form of small intestinal neuroendocrine tumors.

Another important research field concerns rapidly proliferating neuroendocrine carcinomas, for which the Nordic group has a comprehensive research program. She also has a special interest in research ethics and was scientific secretary in the local research ethics committee at Uppsala University between 2001 and 2003, and thereafter member of the central research ethics board in Sweden from 2004 until 2009.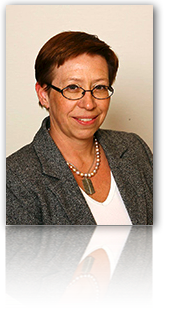 Eva Tiensuu Janson served as head of Department of Medical Sciences between 2009 and 2014 and chaired the Medical Education program committee between 2012 and 2015.
Education and Faculty Appointments
M.D., Medical School, Uppsala University 1988
Internship including research time, Uppsala University Hospital 1991-1994
Ph.D. (Endocrinology) 1995
Residency (Endocrinology and Internal Medicine) 1994-2001
Junior Researcher funded by the Medical Research Council
in Sweden 1997-1999
Associate Professor (Experimental Endocrinology) 1999
Senior Consultant (Department of Endocrine Oncology) 2002
Senior Lecturer (Department of Medical Sciences) 2006
Professor of Medicine 2008
Dean of the Medical Faculty, Uppsala University
Britt Skogseid M.D., Ph.D
Education and Faculty Appointments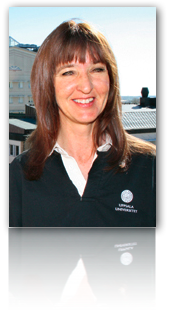 M.D., Medical School, Uppsala University 1984
Internship Uppsala University Hospital 1986-88
Senior Resident, Department of Internal Medicine, Uppsala 1988-93
Senior consultant in Endocrinology 1993
Associate Professor of Internal Medicine, Uppsala University 1994
Member of the committee for research education and appointment as Director of Research Education at the Medical faculty Uppsala University
Head of Endocrine Tumor Biology Research Group 1999
Position as Senior Scientist in the field of Cancer Research 2001
Professor of Endocrine Tumor biology, Uppsala University 2002
Advisor to the Vice Chancellor of Uppsala University, with responsibility for research education at all faculties 2003-2007.
Elector for Swedish Research Council (VR), ongoing 2006
Pro-dean for Research Education, and head of research education committee, Medical and Pharmaceutical Faculties, Uppsala University 2007
Head of the Medical and Pharmacy faculties, Uppsala university 2008
Barbro Eriksson M.D., Ph.D
Education and Faculty Appointments
M.D., Medical School, Uppsala University 1978
Internship, Uppsala University Hospital 1978-1980
Residency (Oncology), Uppsala University Hospital 1981-1984
Residency (Endocrinology) 1984-1986, 1989-1991
Clinical researcher, Ludwig Institute for Cancer Research, Clinical Branch 1986-1989
Ph.D. (Endocrinology) at Uppsala University 1988
Associate Professor (Endocrinology) 1989
Senior Consultant 1992-
Head of Department of Endocrine Oncology 1998-2011
Professor (Endocrine Oncology) 2003
Head of ENETs Centre of Excellence 2009-2011
Staffan Welin M.D., Ph.D
Clinic Head/Head of Department
Education and Faculty Appointments
M.D. Uppsala University 1993
Internship Ludvika hospital 1993-95
Residency (internal Medicine) Uppsala University hospital 1996-2001
PhD(Medicine) at Uppsala University 2007
Senior consultant 2007-
Head of Department of Endocrine Oncology 2011-
Kjell Öberg M.D., Ph.D
Professor of Endocrine Oncology
Education and Faculty Appointments
M.D. Medical School, Umeå University 1972
Residency (Internal Medicine), Boden Hospital 1972-1976
Specialist of internal medicine 1976
Residency (Endocrinology), Uppsala University Hospital 1977-1982
Med. doctor (Ph.D) 1981
Specialist of endocrinology 1982
Associate Professor, Medical Faculty, Uppsala University 1983
Clinical Associate Director, Ludwig Institute for Cancer research, Uppsala Branch, May 1986 - June 1992
Head of the Endocrine Oncology unit, Dept. of Internal Medicine, University Hospital, 1992-1998
Professor of Endocrine Oncology since November 1995
Chairman Dept. of Medical Sciences, Uppsala University, January 1998-July 2002
Dean of the Medical Faculty, Uppsala University, July 2002-July 2008
Chairman European Neuroendocrine Tumor Network (ENET), 1995-2002
Head of the national referral centre for neuroendocrine tumors, 1992-1998
Per Hellman M.D., Ph.D
Professor of Surgery
Education and Faculty Appointments
Medical School, Universitiesof Uppsala and Linköping, Sweden, 1981-86
Internship, Sala hospital, Sweden, 1986-88
Specialization in Surgery; Sala, Västerås and Uppsala, 1989-1995
Research Work at the Departmentof Medical Cellbiology, Uppsala University and Clinical Chemistry, Linköping University 1982-1988
Ph D education, DepartmentofSurgery and Medical Cellbiology, Uppsala University 1989-1993
Research Fellow in Medicine, EndocrineUnit, Harvard Medical School, Massachusetts General Hospital, Boston, MA. 1991-1993
Gunnar Westin Ph.D
Professor
Education and Faculty Appointments
Bachelor of Science (Fil. kand) Uppsala University 1980
Ph. D. in Microbiology Uppsala University 1985
Postdoctoral fellow Institut für Molekularbiologie II der Universität Zürich, Switzerland 1985-1988
Researcher at Department of Medical Genetics, Uppsala University 1988-1995
Associate Professor (Docent) in Medical Genetics 1991
Researcher at Department of Surgical Sciences, Uppsala University 1995-
Superindendent (Föreståndare) for Clinical Research Center (Centrum för klinisk medicinsk forskning) Uppsala University Hospital/Uppsala University 2003-
Professor (Molecular Genetics and Epigenetics of Endocrine Tumors) 2009

Peter Stålberg M.D., Ph.D
Professor of Surgery
Education and Faculty Appointments
University Medical Degree, Uppsala University 1995
PhD student, Endocrine Tumorbiology 1995 - 1999
Doctor of Medical Sciences, Uppsala University 2000
Internship 1999-2000
Licensed to Practice Medicine by the Swedish National Board of Health, 2000
Resident in General Surgery 2000-2005
TS Reeve International Fellow in Endocrine Surgery, Sydney, Australia 2005-2006
Licensed by the Swedish National Board of Health as Specialist of General Surgery 2006
Clinical Associate Lecturer, University of Sydney, Australia, 2005-2006
Associate Professor of Surgery, Uppsala University 2006
Senior Consultant, Endocrine Surgery 2008-
Director, Surgical Services, Emergency Dept 2008-2010
Professor of Surgery, Uppsala University 2015

Anders Sundin M.D., Ph.D
Professor of Radiology
Education and Faculty Appointments
M.D. Uppsala University 1981
Internship Sala Hospital 1981-1983
Residency (Radiology) Sala Hospital 1994-1987
Residency (Radiology) Uppsala University Hospital 1987-1989
Specialist in Radiology 1989
Uppsala University hospital 1989-2007PhD (Radiology) Uppsala University 2003
Senior consultant 1994


Joakim Crona, M.D., Ph.D.
Consultant in Oncology
Education and Faculty Appointments
M.D. degree, Uppsala University, Sweden 2011
Ph.D degree, Uppsala University, Sweden 2014
Rersearch Residency in Clinical Oncology, Akademiska sjukhuset, Uppsala, Sweden 2015-2020
Ieva Lase, M.D.
Consultant in Endocrine Oncology
Education and Faculty Appointments
M.D. Riga Pauls Stradins University, faculty of Medicine, 2004
Residency (internal medicine), University of Latvia/Pauls Stradins Clinical University Hospital, 2004-2007
Residency (endocrinology/diabetology), University of Latvia/Pauls Stradins Clinical University Hospital, 2007-2010
Consultant in Endocrinology, Department of Endocrinology, Pauls Stradins Clinical University Hospital, Riga, Latvia, 2010-2011
Consultant in Endocrine Oncology, Department of Endocrine Oncology, Uppsala University Hospital, 2012-2019
Senior Consultant in Endocrine Oncology, Department of Endocrine Oncology, Uppsala University Hospital, 2019-
PhD student, Uppsala University, 2014-
Tanweera Shaheena Khan, M.D., Ph.D.
Consultant in Oncology
Education and Faculty Appointments
M.B.B.S, Chittagong University 1995
Ph.D (Medicine) at Uppsala University 2004
Swedish M.D. The National Board of Health and Welfare (Socialstyrelsen) 2005
Internship, Uppsala University Hospital 2006–07
Residency (Oncology), Uppsala University hospital 2008–2014
Specialist in Oncology, Department of Oncology and Department of Endocrine Oncology 2014-
Radiological management function in radionuclide therapy, Department of Nuclear Medicine 2015-
Gordana Kozlovacki, M.D.
Consultant in Endocrine Oncology
Education and Faculty Appointments
M.D. University Belgrade (former Yugoslavia), Faculty of Medicine, 1983
General Practitioner, 1983-1987
Residency, Military Medical Academy (lung and internal medicine), Belgrade, 1987-1991
Consultant, Lung Hospital, 1991-2001
Consultant, Department of Pulmonary Medicine, Uppsala University Hospital, 2001-2003
Senior Consultant, Department of Endocrine Oncology, Uppsala University Hospital, 2003-
Yvette Bernardo M.D.
Consultant in Oncology
Duska Bajic, M.D.
Internship
Education and Faculty Appointments
Medical School University of Belgrad, Serbia 2006-2012
Internship, Akademiska sjukhuset, Sweden 2015-
Tobias Åkerström, M.D., Ph.D.
Internship
Education and Faculty Appointments
M.D. Uppsala University 2014
Ph.D. Uppsala University 2016
Hanna Linn Wargelius, M.D., Ph.D.
Internship
Stephanie Burger Stritt, M.D.
Internship