Medication Reviews Bridging Healthcare (MedBridge) is a clinical study that aims to study the effects of hospital-initiated comprehensive medication reviews, including active follow-up, on elderly patients' healthcare utilisation.
The project is a collaboration with Region Uppsala, Region Gävleborg, Region Västmanland, Uppsala Clinical Research Center (UCR), the research group Clinical pharmacogenetics and osteoporosis and the Department of Pharmaceutical Biosciences at Uppsala University. The timeframe of the full project is 2016-2020.
För information på svenska, klicka här.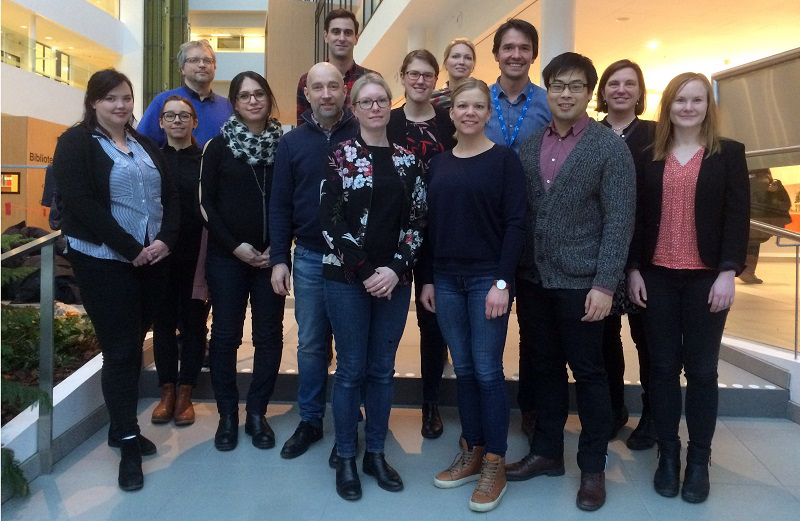 MedBridge clinical pharmacists and researchers.
Background
Mismanaged medication prescribing and use among elderly puts major pressure on current healthcare systems. Performing a medication review, a structured, critical examinations of the patient's medications, during hospital stay with active follow-up into primary care could optimise treatment benefit and minimise harm. However, a lack of high quality evidence inhibits widespread implementation. Here, we describe the rationale and design of a cluster-randomised, crossover trial to fulfil this need for evidence.
Aim
To study the effects of hospital-initiated comprehensive medication reviews, including active follow-up, on elderly patients' healthcare utilisation compared to 1) usual care and 2) solely hospital based reviews.
Design
Multicentre, three-treatment, cluster-randomised, crossover trial.
Setting and participants
The study is conducted in three counties in Sweden: Västmanland, Uppsala and Gävleborg. Within these counties there are four hospitals taking part in the study: Uppsala University Hospital and the hospitals of Västerås, Enköping and Gävle. The intervention components of the study are performed by the existing workforce at two wards within each hospital where clinical pharmacy is an established practice. All wards are staffed with a multi-professional team consisting of physicians, nurses and a clinical pharmacist. In total eight wards are included, with each ward acting as a cluster. All patients who are eligible for inclusion, according to the in- and exclusion criteria, will be asked for informed consent.
- Inclusion criteria: Patients aged 65 or older who have been admitted to one of the study wards.
- Exclusion criteria: Patients in a palliative stage as stated in their medical record, who
have been subject to a medication review within the last 30 days, residing in another than the three regions and one-day admissions.
Interventions
Two different interventions will be compared with each other and with usual care. The interventions pertain to individual patients, see figure 1.

- Intervention 1 'comprehensive medication review': The clinical pharmacist performs a comprehensive medication review in collaboration with the ward physician and patient. During hospital stay, the effects of any medication changes are monitored, and a medication reconciliation ensuring a correct list of medications is performed upon discharge.
- Intervention 2 'comprehensive medication review with active follow-up': The same as intervention 1, but with the following additions: In case of any monitoring needs or necessary subsequent actions to be taken within primary care, the clinical pharmacist and the ward physician send an electronic medication review referral, containing specific proposals and instructions regarding the patient's medication treatment, to the patient's primary care physician upon discharge. Two follow-up phone calls to the patient will be made by the clinical pharmacist (one within 2-7 days and one within 1-2 months after discharge) to ensure adequate home management of medications, reinforce information on drug treatment and to intervene on possible remaining problems or concerns.
- Control group: Usual care.
Primary outcome measure
Incidence of unplanned hospital visits after 12 months.
Data collection and analyses
Extraction and collection from the counties' medical record system into a GCP compliant electronic data capture system. Intention-treat-analyses using general estimating equation techniques and frailty models, using SAS or R.
Timeframe
- Inclusion: 2017/2018 (over 2600 patients in total have been included)
- Follow-up: 2018/2019
- Analyses and publication: 2019/2020
Ethical considerations
This study has received ethical approval from the Central Ethical Review Board (CEPN Sweden) with registration number: Ö21-2016. Additional ethical approval for interviews with patients and healthcare professionals was received by the Regional Ethical Review Board in Uppsala: registration number 2016/251/1. All participants and their data will be handled according to the ethical principles as stated in the WMA Declaration of Helsinki.
Relevance
This new medication review service can have a major impact on the quality of life of elderly people by decreasing medication-related health problems and reaching the patients' treatment goals. Furthermore, it has a high potential of lowering healthcare costs on the short and long term, contributing to a more sustainable future healthcare system.
Media and publications
All publications, articles and conference proceedings can be found here.
The study has been registrered at ClinicalTrials.gov: NCT02999412
Funding
This project has received research grants from different funds which are listed here.
Contact information
For contact information, visit this page.